The SAFE Use Of Extension Cords During Christmas
The SAFE use of electrical extension cords during Christmas

Fires involving holiday lights or other decorative lighting with line voltage

Holiday lights and other decorative lighting with line voltage were involved in an estimated average of 160 home structure fires per year in this same period. (2006-2010). These fires caused an average of nine civilian deaths, 13 civilian injuries, and $9.0 million in direct property damage per year. Almost half (45%) occurred in December and 12% were in January. Seventeen percent of these fires began with Christmas trees. Electrical failures or malfunctions were factors in two-thirds (69%) of the fires involving holiday or decorative lights. NFPA, author John Hall

Safety tips
Extension cord: Simple, replace if defective.
Do not try to repair.
Check outer insulation. Cracked, frayed? Make sure ground plug is not missing.
Try to minimize the length of cord. Do not connect two cords (daisy chain) for extra length. Find another receptacle.
Try to keep them off heavy foot traffic. Tape if tripping hazard.
Keep connections off the ground.
Make sure connections are snug.
Is it UL listed?
Do not overload. Not only is the cord a potential fire associated with an overload (heat), the circuit that provides power to the outlet that runs through the house is also jeopardized.

Indoor or outdoor rated?
Do not staple or nail cord.
Do not pinch or place under heavy furniture.
Use a timer.
Do not repair by "applying electrical tape."
Damaged plug: They are polarized and if wires are connected wrong, become seriously dangerous.

If not GFCI protected, make sure it is connected to one.
If cord is hot, remove. Cord is not sized properly or just too many devices on circuit.
Avoid buying "cheap" cords you find at local neighborhood stores.
Look for a minimum of 14 gauge wire.

Do not run through attics or inside walls.
Have a safe holiday season.

Remember to use these tips throughout the year.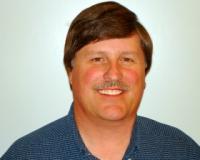 Author:
David McKay
Phone:
915-740-3632
Dated:
December 5th 2013
Views:
2,605
About David: I have been with Exit West Realty since 2010 and prior to that have had 14 years of sales experience...